Leaflets and flyers are a reasonable way of conveying your ideas to a large number of people, hence they are best suited for business communications. Flyer & leaflet designs are one of the best affordable means for any company's promotional purposes. Our designed flyers & leaflets will adhere to the best practices of your business upward and will be implemented on creative lines. Our studio wants to maintain our great quality works and that is why our top great quality graphic designers confirm the best quality before providing it to our clients.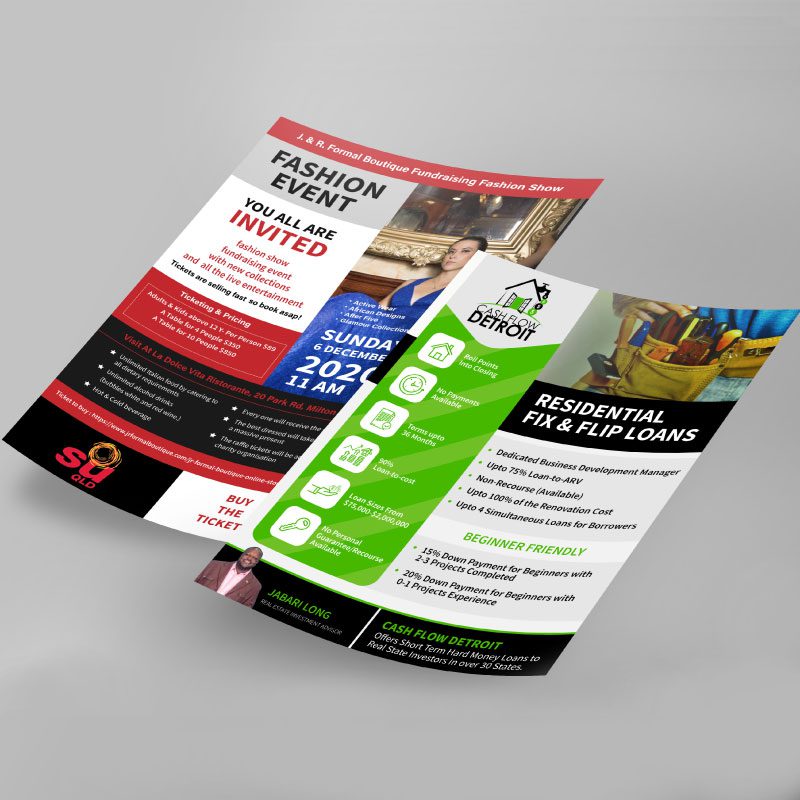 We apply our innovation and creativity to provide you great value proposition in your flyers which will give you an extra-ordinary and professional experience. It is necessary to design a high-quality and creative flyer to meet your business requirements strategically and it is also very important to make an impact on the minds of the targeted customers. It can also be used in digital versions to enhance their email marketing campaigns. Hence, while creating the flyers, we make sure that it is accurate and conveys the dedicated information to the targeted customers.
Leaflets remain one of the influential tools when it comes to marketing and promotion. Leaflets are powerful little print designs that can work hard as part of your marketing collateral. Leaflets design comes in various sizes including A4, A5, A6, or any custom size. At Ineeinfotech, our designers have excellent experience designing leaflets and flyers in all shapes, sizes, and finishes. Ineeinfotech offers highly creative leaflet design services at affordable prices. Our graphic design team put their creativity to spin out leaflets in the most effectual way, assuring effectiveness. Leaflet basically promotes products, services, offers, etc. They are most suitable for a quick and immediate response to your advertisement. Our leaflet design services are so high-class that you do not have to think twice before recommending us to a fellow business owner.
Ineeinfotech provides powerful flyers & leaflets design services at an inexpensive cost. Promote your business with customized flyers & leaflets that have the best quality. Just describe to us your product launch or service information of your business, and we will do the rest. There's no limit to what you can get designed here. Whatever you're looking for, we can make that happen. The flyer design starts from Rs. 499/- INR or $7 USD for 1 concept.
*Price varies according to the complexity of the artwork and pages.